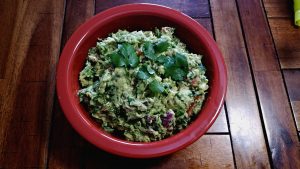 4-6 avocados
1 small purple onion
1-2 Roma tomatoes
2 tomatillos
1 jalapeño or Serrano pepper
1 bunch of cilantro
1 lime (for juice only)
Cumin to taste (I use around a tsp to 5 avocados)
Smash your avocados up well with the juice of your lime. Don't skip this part: slice your tomatoes and remove the juice and seeds. It can make your guac gross and soggy!
Finely dice the tomato, tomatillo and onion, stir in. Chop cilantro up (I go pretty finely chopped) and mix it in.
If you want the spice, leave the seeds in your pepper. Otherwise scoop out seeds and veins with a spoon. (Serrano is hotter than jalapeño.) Dice up finely and mix in.
Add cumin to desired taste. Cheers!