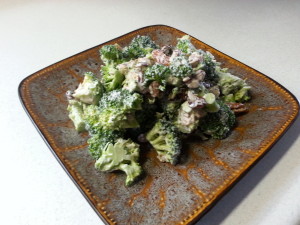 Most people have certain foods they love and could eat just about every day; this is one of mine. I typically make a double or triple batch of this, so I always have some in the fridge. It is a quick and tasty side to any main dish. As far as the ingredients go, I no longer actually measure any of them. I just do a rough guess, throw it all in a bowl, and mix it up. Its very easy and always turns out awesome!
1 bunch broccoli chopped into bite size pieces
½ cup sunflower seeds
½ cup chopped green onions
¾ cup vegenaise w/ grapeseed oil
¼ cup raisins
¼ cup craisins
¼ – ½ cup chopped pecans
2 Tbsp. red wine vinegar or sherry vinegar
Chopped bacon (optional for those bacon lovers)
Stir all ingredients together and store in the refrigerator. It tastes better once it has been refrigerated for a few hours.