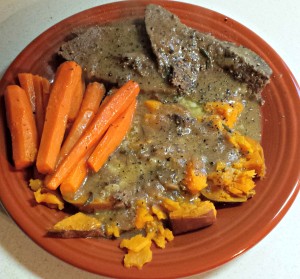 This is by far the best pot roast I've ever had. It would be great to serve to anyone who claims they don't like venison. They will think it's a prime beef roast until you tell them what it is 🙂  I used a pressure cooker  (this one is awesome) to make this recipe but a slow cooker will work just fine. With the slow cooker you just have to wait 8 hours instead of 1.5 hours.
Shopping List
2-3 pound roast (Beef, Venison, Elk, Beaver, any red meat will work. If you are using venison trim off as much fat as possible. That is what gives the gamey taste some people don't like.)
Salt and pepper
1 onion, diced
2 cup of beef stock (water will work too)
1 cup dry red wine
1 bay leaf
5 sprigs fresh rosemary (This is the perfect complimentary herb to any red meat. Sadly, I didn't learn about this wonderful plant until recently.)
2 teaspoons corn starch
2 tablespoons spicy brown mustard
5 tablespoons butter
Sweet Potatoes and Carrots
Sweet potatoes cubed – as much as you want
Carrots – peeled and chunked – as much as you want
Olive oil
1) Melt a couple tablespoons of butter in a big pan on med/high eat. Brown each side of the roast. This does not lock in the juices of the roast as commonly believed. The searing breaks down the meat proteins and adds flavor. It's worth doing this step!
2) Once the roast is finished browning and in the pressure or slow cooker add onion, stock or water, red wine, bay leaf, rosemary, and a bit of salt and pepper. I use fresh ground sea salt and black pepper. The fresh ground tastes better and I prefer my pepper coarser than what you get in a shaker.
3) Cook in the pressure cooker on high for 75 minutes or the slow cooker on low for about 8 hours or until tender.
4) About a half hour before you decide to eat shake up the potato and carrot chunks with a couple tablespoons of olive oil. Put them in a pan that has a lid and bake for about 25 min. Poke the veggies with a fork. If they are soft, they are done.
5) Pull out the pot roast and set it on a plate. To the juice in the pot whisk in cornstarch, spicy brown mustard, and 3 tablespoons butter. Bring it to boil and let this simmer for a couple minutes. The cornstarch with this step helps to thicken the gravy.
6) While the gravy is simmering I slice up the pot roast. Add the sliced pot roast back to the gravy after it as simmered for a couple minutes. Take the 5 rosemary stems and bay leaf out of the gravy. Add as much a salt and pepper as you want on your plate. I don't like adding much salt and pepper until it's on my plate. Most people don't like as much pepper as I do. Enjoy!
7) As I was typing this it kind of seems longer and more complicated than it really is. I put down the measurement of ingredients but rarely actually measure anything. For example, when adding the mustard I don't measure out a couple tablespoons, I just give a good squirt of mustard. If you've never cooked it would be wise to measure ingredients. After a while you can just start eyeballing measurements. It's faster and saves on dish washing.