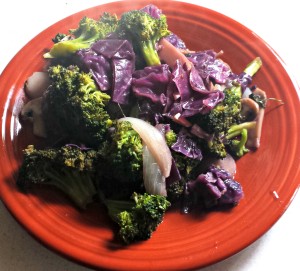 This is something I make just about every day. The beauty is there are so many different combinations possible it never gets old. It takes less then 10 minutes of prep time and about 10 minutes of cooking time. This is exactly how I make one of my favorites:
I put a little olive oil, hot sauce, and honey in the pan. I really like the sweet/hot combo. A tablespoon of honey with some sriracha sauce works great. If you like spicy, go with extra hot sauce. If not go with less, simple.
I then chop up some fresh ginger into tiny pieces and put it in the pan. A piece of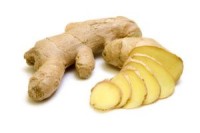 ginger about the size of a 4 quarter stack before chopping works well.  Fresh ginger root is crazy good and I always have it in my stir fry. Try it!
I then add some chopped cabbage, broccoli, onion, mushrooms, bamboo shoots, and water chestnuts. Sprinkle on some coconut aminos or Bragg liquid aminos. Once you get a little practice cutting up the veggies, it literally takes 2 minutes to get it all done.
Put the pan on medium/high heat with a cover and let it cook, stirring every couple minutes. When the veggies are soft  but not mushy, they are done. If you like your veggies a little harder, don't cook it as long. If the veggies get a little burnt, the heat was too high. Once you do this a few times it really gets easy and you'll have a great meal in no time!
I like to add all of the cooked veggies to a bed of mixed greens or lettuce, creating my "czysling salad". Salad dressing, pepper, any spices all optional. It's your salad, add what you like.
Use any vegetables you like. Feel free to add bite sized pieces of chicken, beef, venison, or turkey to the stir fry. Adding cashews is really tasty too, but go light on these if you're really trying to lose weight.
I have had numerous clients replace what they were currently eating with stir fry recipes just like this. This meal is extremely nutritious, inexpensive, easy to make, and great tasting; it's damn near perfect. It is something that can be done on a regular basis, forever. Consistency is the key!