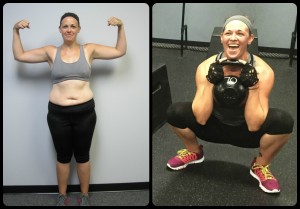 What keeps you motivated?
 There are a couple things that motivate me.  First off, I never want to go back to where I started.  I've worked so hard over these years that I want to keep getting better and improving myself.  I've achieved so many things that I never would have thought possible.  And then, my family always motivates me.  Becoming a healthier and happier mom, wife, daughter and sister.  
Do you ever have periods where your motivation is low and miss a few workouts?
For sure.  Especially when I first started.  I had a hard time figuring out what time of day worked best for me to workout.  If I waited too long, then I would come up with excuses and not go.  
Did you take any Adcovare, Plexus, Isagenix or any other multi-level marketing products? Nope.  I know lots of people who sell Advocare and always tried to come and give me their sales pitch.  But, I can honestly say I have not tried them.  What supplements if any do you take? I take Fish oil, Vit D and probiotics
What's a typical workout schedule in a week for you? When I first started I would go to Eupraxia maybe 3-4 times a week.  Now, I workout 6 times a week. During the week I go at 5 a.m. because all my family is still sleeping and I get home to get the kids up and ready for school.    

Can you describe what you eat on a typical day? Mornings it is usually a bar after workout, and then it really varies.  Could just be a smoothie with Dynamic Greens, or eggs and fruit.  Lunch is typically chicken with a vegetable or salad.  Sometimes it's eggs again.  Supper is pretty much the same.  Some kind of protein and vegetable.  I'm always snacking on some kind of veggie and love my apple and almond butter for something sweet. 
Any advice for people looking to improve their health? Honestly, there is no secret and it's not easy.  It's hard work.  But, once you start seeing results and realize how great you feel and all the new things that you can achieve, there is nothing like it.  It takes time.  It's not going to happen over night. Everybody is different.  One person might see results sooner.  But, don't give up.  If you work hard and stay committed to eating right, you will see results.
What is favorite healthy meal? 
Right now, since the warmer weather, it's anything grilled.  I love grilling vegetables and chicken or steak.  
What is your favorite cheat food?
Ice Cream or my ma's cookies.  
And the most important part is pictured below. Not only is Darci much healthier, all of her kids are as well. Her family is eating better and exercising more. Kids are observational sponges. When they see their parents eat healthy and exercise that is what they learn and that is what they will do!