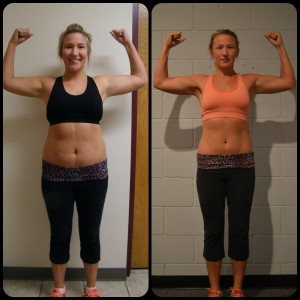 Do you ever have periods where your motivation is low and miss a few workouts? Honestly, I have not missed more than 1 workout since I have started Eupraxia. Once I started seeing results it was very easy to stay motivated and want to workout everyday.
Did you take any Adcovare, Plexus, Isagenix or any other multi-level marketing products? I did. I have tried almost every cleanse, challenge, and diet out there. Not surprisingly, I saw no results.
What supplements if any do you take? I only take the fish oil that Dr. Czys recommends.
What's a typical workout schedule in a week for you? I workout at Eupraxia everyday (Monday-Friday), with an occasional Saturday workout. I also try to walk 2-3 times a week.
Can you describe what you eat on a typical day? I make 2 eggs for breakfast almost everyday. I like to add an avocado or salsa to it every once in a while. For a mid-morning snack I have grapes or a banana. For lunch I almost always have a salad with carrots, cucumbers, broccoli, and sometimes I'll add chicken or hard boiled eggs topped with Italian or balsamic dressing. For an afternoon snack I'll have a handful of almonds, or an avocado. For dinner I'll bake a skinless chicken breast with broccoli or some other veggie. Throughout the day and with every meal I only drink water.
Any advice for people looking to improve their health? You have to put in the work, and eat healthy! Also, go to Dr. Czys nutrition seminars! For me, it was easy to make smart meal choices after realizing how much hard work I was putting in at Eupraxia. I wasn't working my butt off for nothing! 🙂 This made me want to only eat healthy and avoid cheating.
What is favorite healthy meal? Chicken fajitas (just the veggies and chicken of course).
What is your favorite cheat food? Frozen blueberries! I know it's not really "cheating," but they are so delicious and taste like candy. I feel like I am cheating. Oh, and beer. 🙂
And finally, was all the hard work worth it? Absolutely!! It definately is HARD work, but being out of shape, and unhealthy is harder! I am so happy I joined Eupraxia, I only wish I would have started a long time ago!