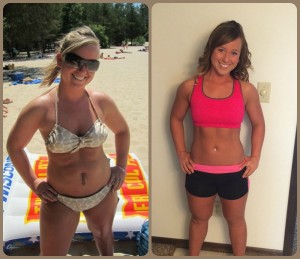 What keeps you motivated? I love how I feel in my skin now. I have so much energy and feel so much healthier. All of the compliments I get help too 😉
Did you take any Adcovare, Plexus, Isagenix or any other multi-level marketing products? In the past year, I tried isagenix but that is not when I saw results. I stopped because I couldn't afford it, and then I started following the Dr Czys' diet. That's when I started seeing massive results and started feeling more energized.
What supplements, if any, do you take? Every day I take Fish Oil and the probiotics that Eupraxia sells. (A little side note about the fish oils: I have tried so many fish oils, and Eupraxia's fish oils are the only ones that don't make me burp up that gross fishy taste!) I also put a scoop of espresso dynamic greens in my cup of coffee every morning. Who needs cream and sugar when you have sweet and tasty dynamic greens??! 😉 
What's a typical workout schedule in a week for you? I work out every day after school. It fits perfectly into my schedule (Monday through Friday). I pack my gym clothes and head right to the gym after work. I also work out Saturday mornings when I can make it.
What is your favorite healthy meal? My favorite healthy meal is baked chicken with asparagus and Brussels Sprouts. MMMM!
And favorite cheat meal? My favorite cheat meal is meat, cheese and crackers or cheese curds. I only cheat if it involves cheese. I'm a Wisconsin girl at heart 😉
Any advice for people looking to improve their health? My advise to anybody looking to improve their health: EAT CLEAN! Working out and exercise is very important, but It will not outweigh your diet to make you healthier and lose weight. You cannot exercise off the calories from a bad diet. I know I used to have the mind set that "oh I just had a super tough work out and burned tons of calories,  now I can go eat a cheese burger." It doesn't work that way. You have to eat clean to go along with your exercise. You will feel so much healthier. Along with good health and a good body image comes happiness 🙂
From Dr Czys; The last part is so very important and such a common problem. People often reward themselves after a workout with a poor food choice. If weight loss is a goal doing this will keep you from making progress.