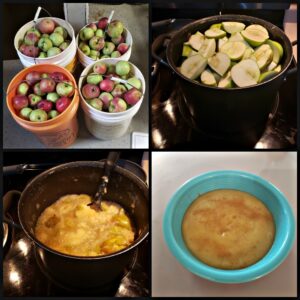 Make this apple sauce and thank me later! All of these apples are actually wild picked on public land. People are often picking berries and mushrooms but overlooking the wild apples. They are not always the prettiest but they do make amazing apple sauce!
And if you're like most and not up for finding apple trees you can find bags of dimpled or dented apples that are cheap but again make great apple sauce.
My goal is to make 12 gallon bags full to put in the freezer. Then every month all year long the family gets a homemade apple sauce treat.
Here's what you do (it's so easy). Cut the core out of your apples like shown in the photo and toss the pieces in a pot. Add about a cup and a half of water and few tablespoons (I just give a quick pour) of lemon juice, lime juice, or apple cider vinegar. That's it for ingredients! Of all the apples I've used I've never needed to add any sugar at all!
Put the lid on and bring the water to a boil and then turn down the heat to low/medium and let the apples simmer. Give the apples a stir every few minutes so all of the pieces cook evenly.
Once the apple pieces are nice and soft just turn off the heat and let it sit to cool down. BONUS – You're kitchen will smell amazing.
Once it's cool I scoop it into a blender, give it a quick blend, and dump it in gallon freezer bags. If you want your apple sauce a little sweeter I'd recommend a few drops of liquid stevia. I think cinnamon is an awesome addition and add that whenever I sit down to eat some. Mix in some some raw nuts and you have yourself a meal.
The kiddos can help you pick the apples, help you make it, and then of course help you eat it all year long.
Prune Your Apple Trees – The apple trees I found were overgrown, the apples were tiny, and the tree in dire need of pruning. I asked youtube how to prune apple trees and just applied what I learned. It was amazing how awesome the apples were that first year after some proper pruning. Your family and countless animals will appreciate any apple tree pruning you decide to do 🙂